Are you ready for an extraordinary journey that combines the thrill of skiing with the serenity of sailing? Join us on one of four epic 7-day Ski and Sail expedition in the breath-taking landscapes of Norway.
BOOK NOW
Voyage description
Welcome to the heart of our Ski and Sail expeditions! Whether you're a seasoned pro or a novice, our journey is tailor-made for adventurers like you. Many of the North's most spectacular skiing destinations are only accessible by boat, making our voyages truly unique. Aside from conquering these fantastic white mountains, you'll relish the joys of sailing between these skiing spots, creating unforgettable memories at every turn.
Designed for adventurers
This voyage is designed for those who seek a challenging and one-of-a-kind holiday experience, offering wild, breathtaking, and beautiful moments that will stay with you forever. With a professional ski guide boasting local expertise and a skilled skipper navigating us to the best conditions, you can rest assured that every moment will be an adventure worth cherishing.
Ski level: Medium
For our Ski & Sail expeditions, it's important that you have previous skiing or snowboarding experience and have participated in backcountry or touring trips. You should be able to achieve a minimum of 1000 vertical meters daily for five consecutive days. While taking a day off is off course an option. Next to that, we will customize the trip based on the group's experience to ensure that everyone has the most amazing and fulfilling experience.
If you're uncertain whether this trip is the right fit for you, please feel free to reach out. We are available to assist you in choosing the expedition that best aligns with your preferences and skill level, whether you're a rookie or highly experienced.
Group size
We will have a crew consisting of 4 nautical experts, 1 chef and either 2 or 3 certified guides, depending on the size and requirements of the group. We'll have a maximum of 12 guests on board. To ensure a more tailored experience, we can organize two seperate groups based on everyone's experience. This way you can choose to join the faster-paced group or the slower-paced one, depending on your preferences and comfort level.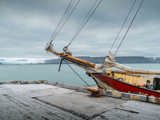 DAY 1 OF 7
EMBARKATION IN SOLVAER
DAY 1 OF 7
EMBARKATION IN SOLVAER
Embarkation. You will step aboard our Tall Ship in Solvear. We get on board in the afternoon and sail towards our first skiing destination. The definitive route will be decided together with your fellow travelers. Our route is highly dependant on weather circumstances.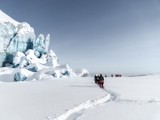 Day 2 to 6
LANDING AN SKIING
Day 2 to 6
LANDING AN SKIING
Each day begins with a hearty breakfast and we will prepare packed lunches before heading ashore. Depending on the day, we may have dinner immediately after skiing, while on other occasions, we'll enjoy a light meal upon returning to the ship and then set sail before having a late dinner.
We'll navigate the breathtaking Norwegian fjords, hop into the dinghy, make landings on secluded beaches where we'll hike and ski one of the most exhilarating lines of our lives. As we descend, we'll be treated with beautiful views of the surrounding peaks and the ocean.
While sailing towards our next destination, we'll take the opportunity to unwind and savor the magnificent landscapes. For the daring, a refreshing dip in the icy waters is an option and if we're fortunate, we might even catch a glimpse of the Northern Lights during the evening.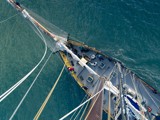 DAY 7
END OF AN ADVENTURE
We will start the day with another morning of skiing. Around noon we will set sail to Harstad where our adventure through the beautiful fjords and mountains of Northern Norway will come to an end. After a hearty breakfast, you are kindly requested to disembark by 9 o'clock in the morning. We hope we've been able to give you an amazing ski and sail adventure and that you've had an enjoyable time on board the Noorderlicht.
All itineraries are for guidance only. Programs may vary depending on ice, weather, and wildlife conditions. Landings are subject to site availabilities, permissions, and environmental concerns per AECO regulations. Official sailing plans and landing slots are scheduled with AECO prior to the start of the season, but the expedition leader determines the final plan. Flexibility is paramount for expedition cruises.
With over 30 years of sailing in Spitsbergen and Nothern Norway Tall Ship Noorderlicht has built a reputation as the most famous Tall Ship in Spitsbergen. The ship is equipped with one goal: accommodating adventurers during their expeditions to Spitsbergen and Northern Norway. Because of her shallow draft she is able to navigate through the least visited fjords. She offers room for 20 guests and is therefore the perfect vessel for forming new friendships. If you wish to learn a thing or two about sailing a Tall Ship, you are invited to give the crew a hand.
INCLUDED IN THE VOYAGE
What's included
Included
All meals. Breakfast, lunch and dinner
Excluded
Drinks aboard (alcoholic beverages and soda's)
Tips/gratuities for the crew
Travel & cancelation insurance
Ski & avalanche equipment (beacon, shovel, probe)
Ski & Sail (1) | Norway, Svolvaer - Harstad | 7 days
From 02 March 2024 16:00 until 08 March 2024 16:00
Mar 02, 2024 - Mar 08, 2024
BOOK NOW